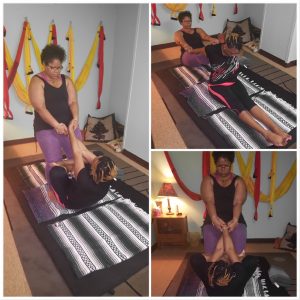 Thai Yoga Therapy is an ancient system of bodywork that combines Yoga and Ayurveda, utilizing acupressure points to affect a healing touch also known as Nuad Boran.
In Thailand it is one of the branches of Traditional Thai Medicine (TTM) and is recognized as a treatment for a wide variety of ailments.
It has also been called Lazy Yoga because as a participant you will be moved through a variety of yoga postures yet with much more engagement due to the practitioner's use of hands, feet, knees and elbows in any given posture. This bodywork has been proven to increase joint mobility, muscular flexibility, circulation and reduce stress. Both practitioner and client are dressed as for a yoga class and the work is done on a mat on the floor.
No prior yoga experience is required and you do not have to be flexible.
Diana is certified in advanced Thai Yoga Therapy which includes work with clients who are pregnant, and other specific women's concerns such as menopause and menstrual irregularities. This training also includes work for athletes, dancers as well as the very stiff and inflexible.
Thai Yoga Sessions With Diana
60 Minute Thai Yoga Session ($80)


60 Minute Thai Yoga Session 4 Class Pkg. ($270)


90 Minute Thai Yoga Session ($110)



90 Minute Thai Yoga Session 4 Class Pkg. ($370)


2 Hour Thai Yoga Session ($140)


2 Hour Thai Yoga Session 4 Class Pkg. ($475)


Check the schedule below to see when you can experience the healing rejuvenation of Thai Yoga Therapy with Diana.